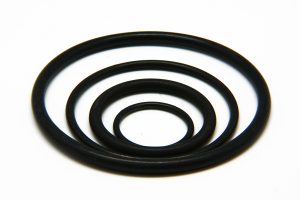 O-rings are sealing elements with extremely accurate measurements. They are produced with moulding in tool and have been used usually for static sealing and in conditions for in time movement. The shape, material, hardiness, size and tolerance are according to the DIN 3770 standard, which is suitable with the DIN – ISO 3601 standard.
O-rings have a hardiness of 70, 80 or  90 Sh. They are  made from different mixtures of rubber, which depend from the conditions of usage, temperature and medium.
NBR-acrylonitrile-butadiene rubber
FKM-fluoro rubber
EPDM-ethylene propylene diene rubber
VMQ-silicone rubber
On stock we have around 2000 dimensions of O-rings from NBR with hardiness 70 Sh.
Take a look at MF Seals catalogue for O-rings